How to Deposit a Check on Varsity Mobile
You have the ability to deposit checks right from your smartphone or tablet, anywhere, anytime. It's fast and simple to use. Follow the steps below to get started today!
● Open the app on your smartphone or tablet and select "Deposit."
● Read and accept the Deposit Instructions. Please note: The endorsement on the back of the check will be your normal check endorsement, such as your signature, and just below that must include "FOR ELECTRONIC DEPOSIT TO VARSITY".
● Select the account where you wish to deposit the funds and enter the amount.
● Select "Front of Check" and place your device over the check to take a picture and once in alignment it will automatically snap the picture for you. Repeat this for the "Back of Check".
● Tap on deposit. Deposit made.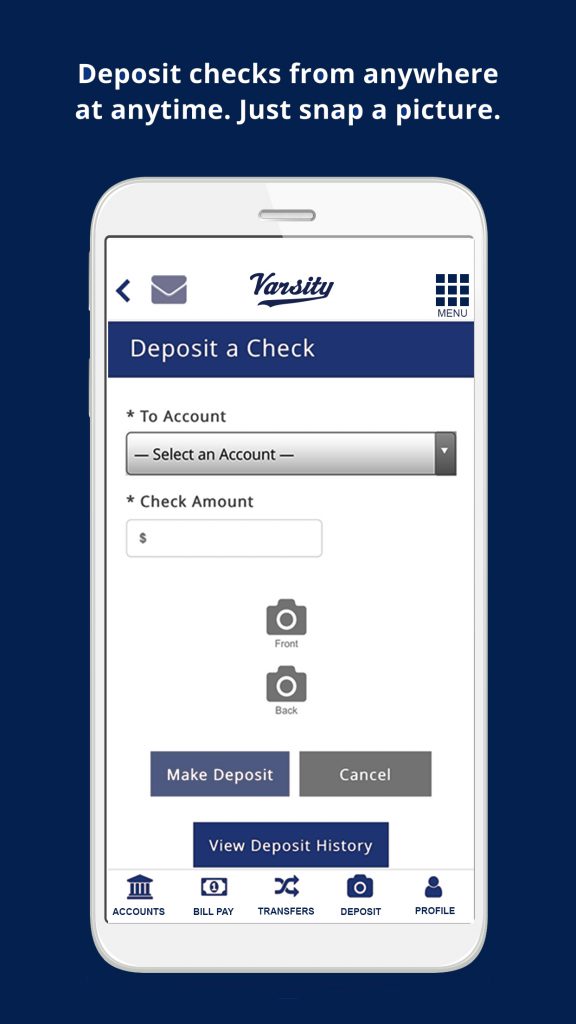 Enjoy Mobile Deposits with Varsity Today
Ready to take busy banks, long drives, and business hours out of depositing a check? Open an account with Varsity today to enjoy the Varsity Mobile App, available in the App Store or Google Play Store.
In addition to our mobile deposits, you'll also receive access to digital tools like Credit Sense, Bill Pay, and more.
Join us today, or contact our team for more information!