To access Varsity Online and Mobile Banking, follow these two quick steps:
Step 1: To access mobile and online banking, go to the Varsity Bank home page and click the customer login designated area, sign in, and click on "Enroll Here" to create a new user account or download the Varsity Mobile App to create your account.
Step 2: For mobile banking on your device simply download the Varsity Mobile App from the App Store and Google Play Store. Once you have downloaded your app and logged into your account, you can now save time and gas money by easily depositing checks from anywhere at any time.
Highlighted Features
Your Bank Accounts:
Access your accounts with our biometric sign-in capabilities.
Activate "Fast Balance" feature to view your accounts prior to sign in.
Quickly review account activity, balances, statements, and check images.
Easily transfer your money between Varsity accounts, or transfer funds from other institutions to/from Varsity.
Stay on schedule with custom alerts with email or text notifications.*
Save time and gas money with Varsity Mobile, mobile deposits.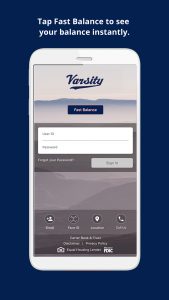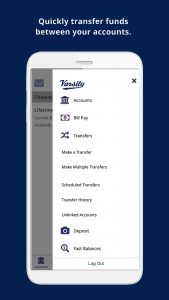 Bill Pay:
Schedule or pay bills directly from home, work or while "on the go."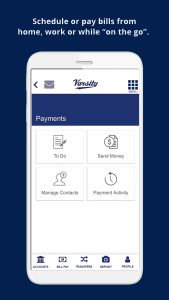 eStatements:
Receive statements in a more secure manner, drastically reducing your chances of becoming a victim of fraud.
Get instant access to your monthly statements.
Access statements anytime, anywhere.
Reduce waste and the pain of having to shred your statements at year-end.
Easily sign up to receive eStatments by accessing your online banking account using a desktop or mobile device. Click here to view step by step instructions.
Money Management:
Budget, monitor spending and establish savings goals.
Compile your accounts internally and externally from other banks for a complete financial view.
Categorize transactions automatically so that you can see where your money goes and help you take control of your spending.
Control the use of your Varsity Debit Card(s) with CardValet:
Using either your desktop or mobile device you will be able to
Put controls in place
Receive alerts*
Turn cards on and off in real-time
*Alerts received as text messages on your mobile device may incur a charge from your mobile phone service provider.
Credit Sense:
One of the most important numbers you will ever have is your Credit Score. Varsity is pleased to offer you a way to monitor your credit score and credit report for FREE with Credit Sense. What is Credit Sense, you ask? It's more than just a number; it's a tool. With Credit Sense you're able to:
Understand your credit score
Monitor your credit report
See your credit history
Learn how you can improve your credit score
Ability to receive monitoring alerts for credit report activity
And much more! Enroll in Credit Sense through Varsity Online and Mobile Banking today!
Varsity Mobile Deposit
With the Varsity Mobile App, you not only have all the same great features you have with Varsity Online, but also the ability to deposit checks right from your smartphone or tablet, anywhere, anytime. It's fast and simple to use.
Open the app on your smartphone or tablet and select deposit check.
The endorsement on the back of the check will be your normal check endorsement, such as your signature, and just below that must include "FOR ELECTRONIC DEPOSIT TO VARSITY".
Take a photo of the front and back of the check with your mobile device.
Select the account where you wish to deposit the funds and enter the amount.
Tap on confirm. Deposit made.